PIONEERING AFRICA'S UNIFIED ENERGY VISION
Africa's population is expected to double by 2050, as a result the continents energy demand is expected to increase tremendously in the next two decades. Despite possessing 8% of the world's proven natural gas reserves, more than 700 million Africans lack access to energy and clean cooking fuels. 

In accordance with the Paris Agreement, the transition away from fossil fuels has been at the centre of the global climate conversation. Despite contributing the least to global warming and emitting the lowest greenhouse gases, Africa is the most vulnerable to climate change. Given that African economies are heavily dependent on oil and gas export revenues, fossil fuels will continue to maintain a prominent role in the region's energy mix. While African nations have demonstrated ambition in playing a crucial role in global efforts to combat climate change, Africa must take a pragmatic approach that assures a gradual shift from fossil fuels to clean energy sources.

The inaugural EGYPES 2024 Africa Dialogue Conference will bring together key African stakeholders including top government officials, financial institutions, economists and energy thought leaders to discuss the most pressing challenges related to policies, regulations, natural gas infrastructure development, and how Africa can leverage its rich energy resources to drive the continent towards a more prosperous and sustainable energy future.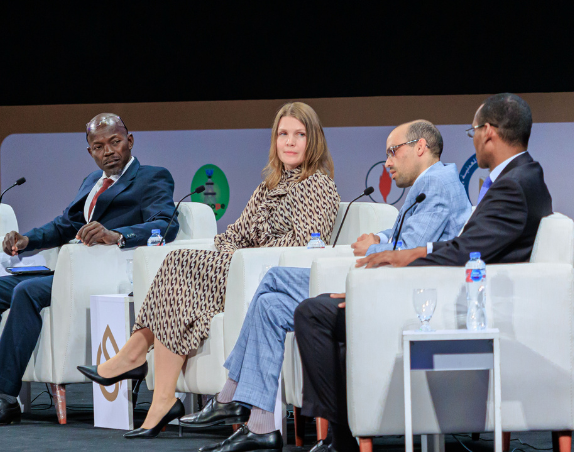 AGENDA
KEYNOTE SPEECH
Egypt's Commitment to Advancing Africa's Just Energy Transition
KEYNOTE SPEECH
Delivering a Fair, Just and Equitable Energy Transition
MINISTERIAL PANEL DISCUSSION
Navigating Africa's Energy Dilemma
PANEL DISCUSSION
Evaluating Investment Opportunities and Strategies for Africa's Natural Gas Market
PANEL DISCUSSION
Leveraging Africa's Natural Resources for Global and Domestic Energy Security
Lunch, Exhibition and Networking
PANEL DISCUSSION
Policy and Regulatory Frameworks for Africa's Energy Transition
PANEL DISCUSSION
Financing Clean Energy in Africa
Plan your experience at the Egypt Energy Show