CRAFTED BY SEASONED ENGINEERS, EXCLUSIVELY FOR TECHNICAL SPECIALISTS
At the intersection of innovation and expertise, the EGYPES Technical Conference occupies a central position within the Egyptian, African, and Mediterranean oil, gas, and wider energy landscape, serving as a hub of technical enrichment catering to engineers, technical experts, and digital champions.
With its comprehensive programme, the EGYPES Technical Conference is the ultimate platform for energy sector engineers to push the boundaries of excellence, to navigate the ever-evolving realms of cutting-edge innovative technologies and to showcase project expertise and technical insights.
Delve deep into the latest advancements, best practices, and innovative solutions that are shaping the energy landscape. Whether you're a seasoned energy professional looking to reach new heights or a young talent just starting your energy journey, the EGYPES Technical Conference programme is your launchpad for endless possibilities, invaluable knowledge gathering and career progression.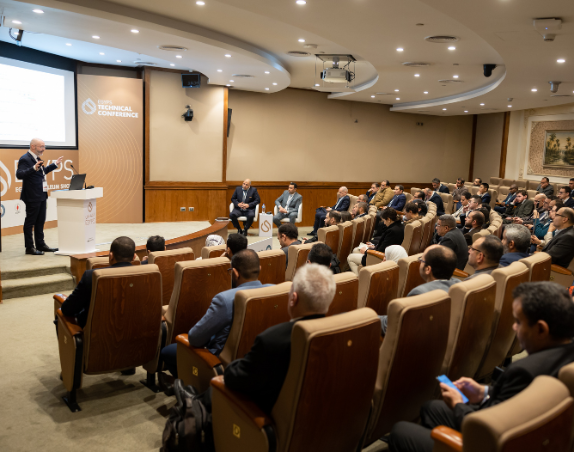 ADDRESSING 19 TECHNICAL CATEGORIES
Downstream: Refining Technology, Operations and Marketing (REF)
Refining and petrochemical integration, supply chain management and feedstock maximisation
Improving refinery economics: decreasing costs and increasing profitability
Development and advancement of refining technology and processing
Decarbonising the gas processing value chain with renewables
Innovation and R&D in refineries
Marketing and distribution of refined products: efficiency, safety and security
Marketing and distribution: new efficient ways to approach your customers
Upstream: Exploration of Conventional Resources (CONV)
Prospected evaluation and basin modelling
Formation evaluation
Reservoir characterisation
Rock physics, properties and seismic inversion
Gas/LNG Processing, Operations and Technology (GAS)
Gas (and associated liquids) processing
Gas liquefaction, regasification, FLNG
LNG, LPG, CNG and Chemical Gas production challenges
Efficient utilisation of gas flaring
Sour gas field developments, sulphur disposal
Advances in gas sweetening and dehydration
Innovation in design, production and operation of gas fields
Enhanced Gas Recovery
R&D related to production and processing of Gas/LNG
Offshore and Marine Production, Technology and Operations (MAR)
Offshore infrastructure: production platforms, artificial islands design, piling, flow lines, umbilical connections
Floating production, storage and offloading (FPSO), offshore support vessels (OSV), and remotely operated underwater vehicles (ROV)
Shallow and deepwater exploration: subsea wells, subsea fields, subsea projects and developments
Deep-water HPHT well design, drilling fluids stability
Innovative offshore and marine technology
Engineering, procurement and construction offshore
Assessment, evaluation and integrity management of existing offshore structures
Decommissioning of offshore rigs
Marine fuels, green shipping, hydrogen as a marine fuel, LNG as a marine fuel
Bunkering developments and infrastructure
Hydrogen, biofuels, alternative fuels, nuclear and renewable energy (ALT)
Production and usage of grey hydrogen, blue hydrogen and blue ammonia
Production and usage of green, yellow and pink hydrogen
Hydrogen fuel and electric vehicle innovation
Smart mobility innovation
Battery, energy storage, charging and infrastructure
Synthetic fuels
Nuclear power, reactors, infrastructure
Biofuels: feedstock, technology, production and usage
Solar energy: technology, operations, integration with existing facilities, case studies
Wave power, geothermal
Wind power: technology, operations, integration with existing facilities, case studies
Oil and gas projects supported by renewables, green electrification
Digitalisation of Oil and Gas (DIGI)
Industrial Internet of Things (IIOT), connected performance, integration of mobile devices
Digital twins
Big Data, machine learning and advanced analytics
Protecting oil and gas facilities: cyber and infrastructure security
Artificial Intelligence (AI), robotics, Virtual Reality (VR), Augmented Reality (AR), mixed reality, blockchain
Deployment of drones
3D printing
Digital transformation initiatives and best practices leading to performance and efficiency enhancement
Project Management and Execution (PM)
Successful project execution: engineering, procurement, supply chain, construction and management, cost optimisation, value engineering
Agile project management
Risks and challenges of brownfield projects
Tackling oil, gas and petrochemicals mega-project challenges
Project risk assessment and management
Project contract management, management of the contractors, turnkey projects
Cost/benefit analysis, cost estimation, cost control
Early production project approach
Claims, disputes and arbitrations
Risks associated with project delivery systems, types of tender and types of contracts
Building Information Modelling (BIM) in managing projects
People and Talent Development (PPL)
Leadership and career development
People management and continuous development: team building, mentorship and sponsorship of employees, training and skills development, developing work ethics, talent retention
Performance management: appraisals, total rewards and compensation, incentive plans and executive compensation, managing employee benefits, employee loyalty programmes
Talent acquisition strategies, promoting oil and gas industry to the next generation
Corporate Social Responsibility (CSR) initiatives
Diversity, inclusion, belonging: in-house women programmes, equal pay, returnship programmes
Worker protection, employee rights and responsibilities
Strategic HR management and planning, change management
Workplace learning: technology, e-learning and virtual development, knowledge transfer between employees
Strategic company management
Innovation in people development
Millennials and Generation Z: building a future netzero ready workforce Innovation in people development
Oil and Gas Field Development (FD)
Unlocking the potential of mature fields
Integrated development planning and field development case studies
Integrated development for marginal fields
Field surveillance and testing
Production optimisation case studies
Reservoir engineering, monitoring and testing technologies
Enhanced oil recovery (EOR): technology advancements and innovative strategies
Smart and digital oilfields: improving operational capabilities of assets
Onshore and offshore well stimulation: hydraulic fracturing technology and operations
Intelligent completions: design, implementation and performance
Artificial lift innovation and technologies
Well interventions and new technologies
Well integrity management and surveillance
Strategies for well production enhancement
Reservoir damage: mitigation and treatment
Completion fluids optimisation and filter cake breaker system
Completions equipment for reducing costs and increasing productivity
Tubulars and material selection
Downstream: Petrochemicals Technology and Operations (PET)
Decarbonising the petrochemicals feedstock value chain with renewables
Successful petrochemicals business models
Olefins and aromatics: operations and technology developments
Petrochemical and refining integration, supply chain management and feedstock allocation, diversification and maximisation
Technology for effective conversion from crude to chemicals
Strategy, long term planning and exit strategies for petrochemical operations
Integration of bio-feedstock in petrochemical plants
Bio-based petrochemicals
Overcoming environmental challenges, plastic/petrochemicals recycling
Biodegradable polymers: technologies, market trends, applications, environmental impact, case studies
Upstream: Exploration of Unconventional Resources (UNCONV)
Unconventional resource assessment and evaluation, strategies for development
Tapping into unconventional gas: coal, steam gas, shale gas, tight gas, methane hydrates
Heavy oil, oil sands and shale oil
Thin beds and tight reservoirs
Nanotechnology applications
Midstream: Transportation, Storage and Infrastructure (MID)
Oil and gas transportation, flow assurance, pipeline technology, subsea tiebacks
Pipeline infrastructure, best practices in pipeline management
Preventive maintenance, smart pipelines
Legacy infrastructure for hydrogen transportation
Oil, gas and hydrogen storage, tanks and tankers
Innovative technologies for gas metering and monitoring
Integrated shipping and logistics
Smart shipping
Environmental Sustainability, Climate Change and Energy Transition (ENV)
Reducing carbon footprint and greenhouse emissions
Carbon Capture and Storage (CCS) and Carbon Capture, Utilisation and Storage (CCUS) initiatives
Circular Economy: Reduce, Reuse, Recycle, Renew
Management of produced waters (PW) and drilling waste
Oil spill preparedness and response, environmental protection
Biodiversity and ecosystem services
Remediation of contaminated land
Flare recovery and reinjection
Methane reduction roadmap
UN Sustainable Development Goals (SDGs)
Climate technology and innovation to reach the 1.5 °C pathway
Environment related Corporate Social Responsibility (CSR) programmes
Decarbonisation and energy transition, net zero, clean energy business models, R&D innovation and tech deployment
Oil and Gas Economics, Concession Agreements and Project Finance (FIN)
Oil and gas supply and demand trends
Current economics, market trends, fiscal policies, commercial contracts
Concession agreements, oil and gas bid rounds
Egypt as Eastern Mediterranean energy trading hub
Project finance: IPOs, cryptocurrencies, smart financing, mergers & acquisitions, joint ventures, portfolio diversification
Financing energy transition strategies and decarbonisation technologies
Financing hydrogen projects
Gas market deregulation
Economics on acquiring fields
Oil and gas technical patents
Petroleum legislation
Environmental, social, governance reporting framework
Safety culture and safety management systems, human factors and performance
The role of leadership within HSE
Preparedness and emergency response, mitigating risks
Best practises and responses to COVID-19
Occupational safety
Process safety: accident prevention and lessons learnt
Stakeholder engagement, community awareness, and health and safety related Corporate Social Responsibility (CSR) programmes
Mental health and wellbeing, occupational health
Use of digital technologies to improve HSE, wearable technology
Innovation in HSE
Operational Excellence (OpEx)
Improving asset integrity
Improving energy efficiency
Cost optimisation
Advancements in asset maintenance strategies, managing asset life extension, improving reliability
Six Sigma methods and applications
Business Process Re-engineering (BPR)
Intelligent automation and the role of technology to achieve operational excellence
Geoscience: Upstream Technology Developments (GEOT)
New logging technologies
Advancements in seismic surveys and technologies
Data collection, management and analysis
Well logging, remote sensing for new and existing wells
New technology applications – case studies
Well engineering challenges and improvements, formation damage and production improvement
Drilling technologies and downhole equipment
Well cementing and zonal isolation
Directional drilling and drilling bits advancements
Drilling fluids: technology, environment, performance enhancement, digital solutions
Drilling practices and wellbore stability
Drill cutting treatment and handling technologies
Drilling performance and cost optimisation
Digital drilling solutions, automated drilling technology
Managed pressure and underbalanced drilling
Innovative rig designs
Plan your experience at the Egypt Energy Show