SHAPING A SUSTAINABLE ENERGY VALUE CHAIN
When it comes to combatting climate change and advancing decarbonisation, global economies are rapidly moving from ambition to action. With growing concerns about the environmental impacts of carbon emissions, governments, key industrial sectors, and society at large have recognised the urgent need to transition from fossil fuels towards cleaner, more sustainable energy sources.
As a result, the global energy landscape is undergoing a paradigm shift, from fossil fuels towards renewable energies. This has led to a surge in global decarbonisation efforts in driving a remarkable wave of innovation and technologies across the energy value and supply chains. From the evolution of natural gas to the emerging potential of green hydrogen and green ammonia, a myriad of clean energy solutions is gaining momentum. These developments are, improving energy efficiency, promoting circular economy practices and increasing the adoption of renewables in the energy mix.
Following the backdrop of pressing environmental concerns and the critical need to reduce greenhouse gas emissions, the EGYPES 2024 Sustainability in Energy Conference will bring together industry pioneers to explore the latest clean energy advancements and strategies required to accelerate net-zero targets by 2050.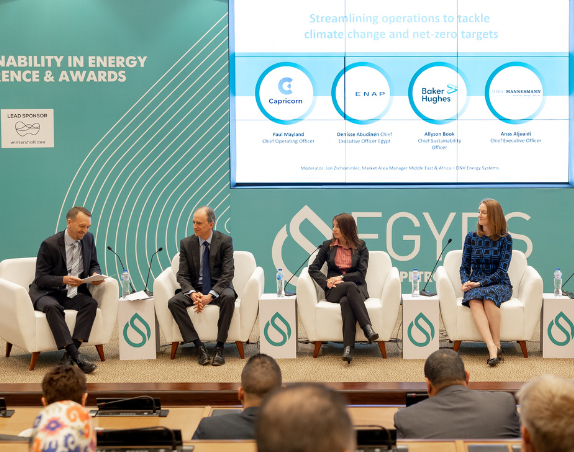 AGENDA
MINISTERIAL KEYNOTE SPEECH
Egypt's Roadmap to Increasing Green Energy and Emission Reduction Targets
KEYNOTE SPEECH
The Legacy of MENA Region's COP 27 and 28 on the Global Sustainability Agenda
PANEL DISCUSSION
The Evolution of Natural Gas and LNG
PANEL DISCUSSION
Shaping the Future of Energy Innovation
PANEL DISCUSSION
Accelerating Net-Zero Targets through ESG Compliance
LUNCH, EXHIBITION AND NETWORKING
PANEL DISCUSSION
Unleashing the Potential of Green Hydrogen and Green Ammonia
PANEL DISCUSSION
Empowering the Digital Transformation for a Clean Energy Future
PANEL DISCUSSION
Decarbonising Upstream Oil and Gas Operations
PANEL DISCUSSION
Navigating a Sustainable Future in the Maritime Sector
PANEL DISCUSSION
Building a Low Carbon Downstream Sector
Increasing the Adoption of Renewable Energy in the Energy Mix
Plan your experience at the Egypt Energy Show