ENABLING A PEOPLE-CENTRED ENERGY FUTURE
As the energy transition accelerates, fuelled by groundbreaking clean energy technologies, the global spotlight on talent strategy intensifies. This has increased pressure to recruit, retain, and upskill to bridge skill gaps, exacerbated by retiring professionals leaving the sector, digital transformation creating new roles, and talent drain to technology sectors.
Navigating the energy transition and attaining net zero targets by 2050 will be a generational challenge, with STEM millennial and Gen Z graduates of today, being the energy leaders of tomorrow. The sector is therefore working to redefine itself to become an attractive career proposition for the next generation of talent. From creating flexible working environments which offers work life balance to fostering a culture of purpose that aligns with their values.
Despite evidence clearly demonstrating that a diverse and inclusive workforce fosters profit and innovation, yet only a tiny proportion of women continue to enter the energy industry despite the vast cohort of STEM graduates. Creating a diverse and inclusive workforce is therefore a strategic necessity in order to create a low carbon future.
The EGYPES 2024 Equality in Energy Conference will bring together global industry experts, including organisational change management and inclusion and sustainability leaders to drive the discussion on how talent strategy becoming an existential priority in creating a people-centred energy future.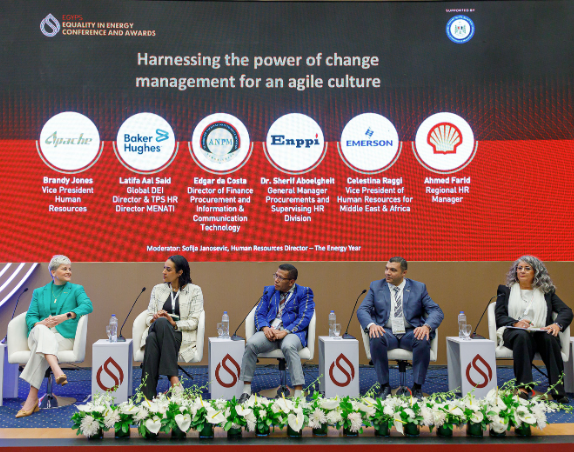 AGENDA
Wednesday 21 February 2024
KEYNOTE SPEECH
Reinventing the Energy Workforce of Tomorrow
As the global push to tackle climate change gathers momentum, energy companies are faced with a dual challenge, to create more sustainable business models and to prepare their workforce for this change. The sector therefore has a unique opportunity to reinvent its workforce while navigating the energy transition. The COVID-19 pandemic expedited digitisation and remote work adoption, and as a result, employee expectations towards hybrid work models continue to evolve. Energy companies are now compelled to address these workforce dynamics and prioritise several industry specific needs including attaining and retaining talent and creating entirely new skillsets and roles to accelerate net-zero.

Attendee Insights:
This keynote speech will highlight how the sector is redefining workplace policies, practices and procedures to create a people-centred energy future.
PANEL DISCUSSION
Empowering a Net-Zero Ready Workforce – Rethinking Talent Development
Emerging clean technologies are revolutionising the energy sector as it strives to decarbonise its operations to reach net-zero ambitions by 2050. To ensure a smooth transition towards a low carbon economy, energy companies are focusing on the development of a net-zero ready workforce. As we move into the future of work, organisations are upskilling and reskilling their workers with the necessary tools to leverage digital innovations required to close the digital skills gaps. The development of new low-carbon roles along with investment in talent development strategies will be the key to bridging the skills gap required to meet decarbonisation commitments.

Attendee Insights:
Energy thought leaders will discuss the strategies that companies are implementing to develop a workforce that is capable of accelerating net zero and the proactive measures organisations can take to address the skills gap.
PANEL DISCUSSION
The Role of HR in the Evolving Energy Landscape
In the dynamic and ever-evolving landscape of the global energy sector, the role of HR has emerged as a driving force shaping the industry's present and future. The influence of a progressive HR department extends far beyond traditional operating models. It encompasses strategic workforce planning, identifying green jobs, skill gap analysis, recruitment and retention, diversity and inclusion initiatives. This multifaceted approach is aimed at developing an organisational and reporting framework that not only achieves operational excellence but also nurtures a workforce culture equipped with the capabilities needed to meet the demands of the ongoing energy transition.
Attendee insights:
HR leaders will delve into the multifaceted role of a human resource department in the global energy sector, exploring how HR practices are evolving to support a workforce with equal opportunities for all.
PANEL DISCUSSION
Redefining Success: Millennial and Gen Z Perspectives on Careers in Energy
Navigating the energy transition and reaching net-zero targets by 2050 will be a generational challenge, and the success of this transition relies on the contributions of the next generation. With Millennials and Gen Z emerging as a significant portion of the future workforce, their distinct outlook on career expectations and workplace flexibility is redefining the energy industry to promote positive change, adopt innovation, and contribute to a more sustainable future. To attract and retain the next generation of STEM professionals, the industry must prioritise wellbeing, diversity and inclusion, and demonstrate a clear moral purpose in powering the world with energy.
Attendee insights:
The panel will explore how the energy sector is redefining itself to align with the career, workplace aspirations and values of millennials and gen z in order to entice them to pursue a career in the industry.
PANEL DISCUSSION
Fostering a Culture of Equality and Gender Diversity in the Energy Industry
The modern-day workforce is becoming increasingly diverse, and the energy industry is recognising that a diverse and inclusive workforce is a key driver of profits, innovation and sustainability. However, in the traditionally male-dominated energy workplaces, only a small proportion of women are entering the sector despite the vast cohort of female STEM graduates. Several reasons contribute to this underrepresentation, including unconscious bias, a lack of female role models, limited diversity in recruitment processes and factors related to cultural and societal norms. The energy transition itself demands new ideas and fresh approaches, making gender diversity in the workforce a strategic necessity.
Attendee Insights:
This session will highlight the significance of creating a gender diverse, equitable and inclusive workforce to deliver business growth whilst discussing the steps the industry is taking to increase the representation of women.
Wednesday 21 February 2024
Plan your experience at the Egypt Energy Show